Failing Boldly

By Christian Coon

Few people would consider failure to be a gift from God. If you are trying to energize and grow a ministry, however, embracing the lessons and, yes, the 'gifts' of failure may be the best way to maintain a dynamic and encouraging place for people to seek the heart of God. Through personal stories of his own missteps and mistakes as the co-founder of Urban Village Church—as well as those of others working to plant and grow ministries—Christian Coon shows how failure is a springboard to new experiences and, hopefully, a deeper connection to God and what it means to be a leader in the church.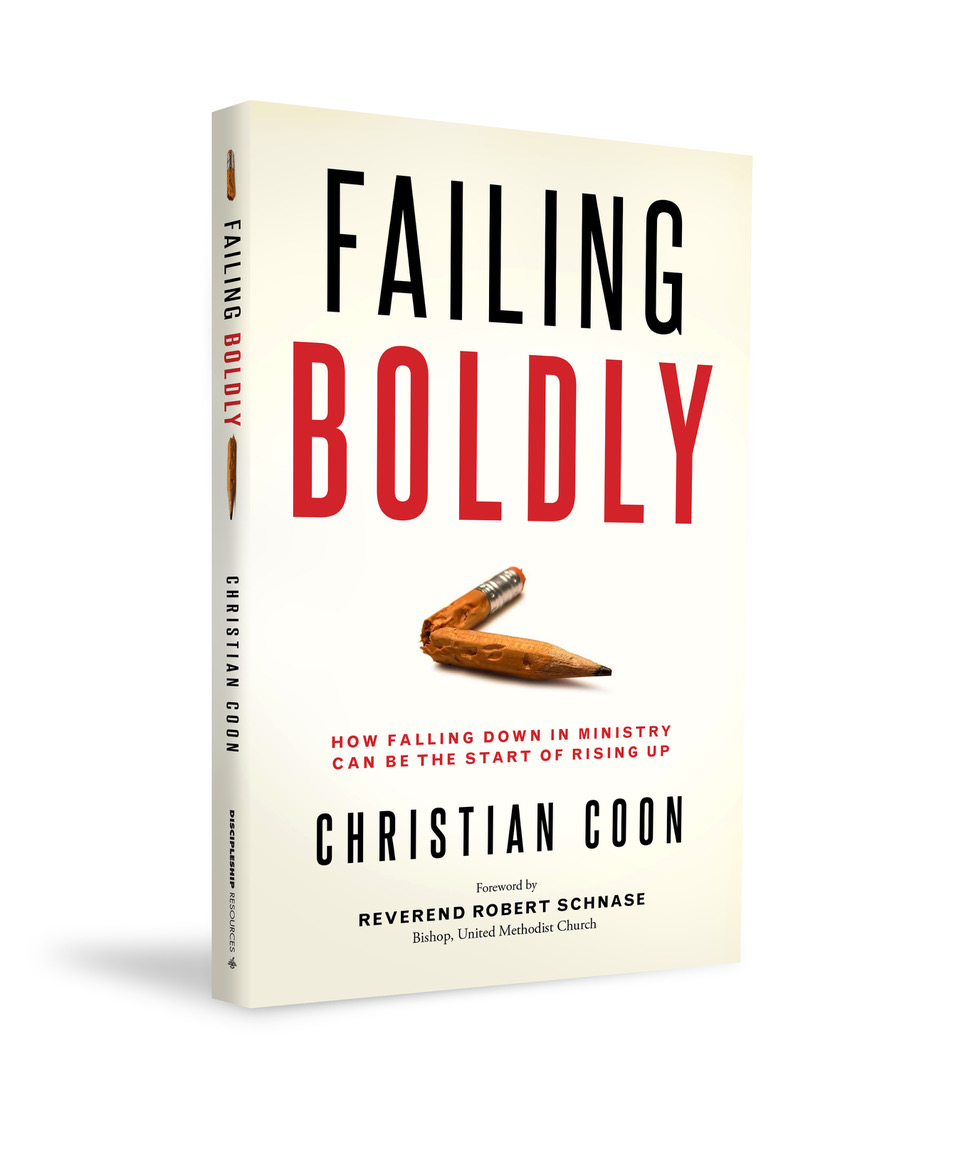 Praise for Failing Boldly
"Looking for easy answers? Don't buy this book.  Looking for anecdotes for success? Move on.  Wanting to learn how failure can produce a church?  This is a good, first read.  Christian Coon confesses his struggle with leading through fear of failure. But he moves on and embraces the idea. This book will challenge you to go on the offense and make attempts that make others say, 'wait…what'?  As for me, I'm with Christian, let's fail some more!"
Jim Griffith
Urban Village Church Chicago began with a unique and bold vision. Christian Coon shares the story of this multi-site congregation and how great ideas lead to what he terms "failures." What may be termed failures are experiences that open pastors and congregations to learning how to do a new thing. I encourage persons to read Failing Boldly to cultivate an environment for innovation and faithful work.
Bishop Michael McKee
Failing Boldly is the most honest, encouraging, theologically on-point book about ministry I've read in twenty years—it had me cheering in the hair salon! Absolutely required reading for anyone who has even thought about Christian leadership. I've been waiting on this book for my entire ministry.
Kenda Creasy Dean
For years I have secretly felt that I was always only one step ahead of ministry failure. Christian Coon's new book "Failing Boldly" reminded me that failure is an effective catalyst in life and that risk-taking and mistake-making are the lifeblood of the change-staking needed to shift today's stymied church culture.
Rudy Rasmus, Pastor
Failing Boldly describes what all of us in active ministry today experience in the constant trial and error process that is needed in order to be adaptive in our contexts. This book is helpful for all clergy and laity to recalibrate the soul, mind and goals of ministry to stay true to the course through the discouragements that inevitably occur as we stumble and fail.
Bishop Sally Dyck
Christian Coon has experienced the radical transformation that resurrection life can offer, in his life and in his ministry. He will take you from failure to thriving, from death to life, as you witness the power of the Holy Spirit, leading him through struggle into vital ministry and vital living.
Martin Lee
Failing Boldly is an important word for all faithful followers of Jesus. Christian reminds us that when we attempt great things for God, everything won't always go as we pray and expect. By honestly relating his personal journey, he gives us hope and courage to get back up and keep moving forward.
Mike Crawford
Christian Coon's clear, open and conversational writing style is as if we are sitting down to share a beer, a meal, a walk or a coffee.  He has much to say here. He and Trey Hall have connected so many dots in unique and creative ways as they participate in culture, wrestle with the times, and integrate the Biblical and theological traditions and UMC heritage.  What makes it all so powerful and accessible for me is Coon leads with his vulnerability, honesty, story, experience.  I was immediately led to my own story and experiences and found myself able to remember, own and connect my learning or need to learn with his shared wisdom and experience.
Ray Schulte
With just the right amount of humor, humility, and honesty, Christian Coon boldly invites us into his personal life, and allows us to accompany him on the journey –the good and the bad– of planting Urban Village.  There is holy irony in successfully writing a book on failure and he captures it with sensitivity and grace, by sharing his heart-felt experiences and introducing us to other writers both historical and contemporary unpacking failure through the prism of spirituality.  'Failing Boldly' is a practical book that points to many ways to look at and learn from failing; but mainly it points to Jesus.
Jim Ozier
With Failing Boldly Christian Coon provides a much-needed antidote to the success-driven "Hero Pastor" library of church leadership books.  His honest and courageous self-reflection on the ups and downs of ministry make this a must-read for church leaders of all kinds. Learning to embrace and learn from failure, even though it hurts, is the path toward reclaiming joy and fun in the midst of the anxious and overly earnest church in America. I greatly enjoyed this book, and I will be recommending it to the pastors and church planters whom I teach and coach.
Curtis Brown
Failing Boldy gives me great hope and excitement for the future of the church. The story of Urban Village continues to unfold and inspire. Christian Coon shares the good, the bad, and the ugly in this engaging, no holds barred resource. The reader will actually walk away from this with honest, practical, realistic wisdom to better understand the call, how to create a unique new worshiping community, and how to succeed by failing. Even through the scars, Coon articulates why the reward are worth the risk. Want to impact your community, read this book.
Brad Aycock
As a church planter, I've learned far more from my failures than I have from my successes. Christian offers all of us, from the veteran pastor to the new church planter, a much needed reminder that we all fail, and learning from those failures is the key to our future. From maintaining perspective, to living through disappointment, to picking yourself up and trying again, these are lessons we all learn. You can do it the hard way, or you can read this book!
Matt Miofsky